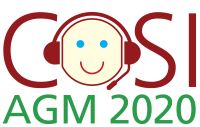 The delayed 2020 AGM of the COSI (EMEA) User Group will take place on Wednesday 24th February 2021, and will be a virtual meeting.
It is an opportunity for members to have their say in how COSI (EMEA) is run.
Please also think about whether you could help out on the user group committee in any capacity. The time commitment is very small.
We will add agenda and registration details very soon.