More details on the agenda, the exact format and arrangements for virtual attendance will follow soon.
John Chrastka the executive director of EveryLibrary(link is external), the only national political action committee for libraries, and the EveryLibrary Institute(link is external), a non-profit think tank for libraries will be giving our keynote on 9 July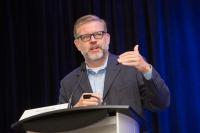 "Who Else [Should] Care: How public, academic, and special libraries can better communicate their values, vision, and mission with stakeholders"
Library leaders from all types of settings need a keen understanding of how to position their library for future funding success. The best way to ensure that you have the resources you need to continue to serve your community, campus, or workplace is to understand that most funders are not users, clients, or customers. Funders are often motivated to support library budgets by different needs and prompts than what motivates a user to engage the library. Join John Chrastka, Executive Director of the US-based political action NGP EveryLibrary for a keynote discussion of ways to root your library's budget in a shared-values and mission-aligned framework. We hope for you to come away with actionable insights to help advocate for your library to stabilize or extend your budget.