Welcome to the COSI EMEA website
Welcome to User Group members accessing the COSI EMEA web site. I hope that you will find the site useful and easy to use.
The web site is designed to include as much information relating to the User Group as possible, including minutes of all meetings and conference presentations. It also includes member details, including the contact details of committee members.
---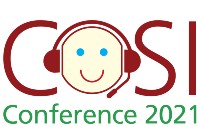 COSI (EMEA) Conference 2021 - You're on mute!
Due to the on-going COVID-19 situation, the COSI (EMEA) committee has decided to schedule a virtual conference in 2021.
The conference will take place on the 8-9 July 2021 (pre-conference training on 7 July). The draft agenda is now available, and registration is now open.
John Chrastka the executive director of EveryLibrary, the only national political action committee for libraries, and the EveryLibrary Institute, a non-profit think tank for libraries will be giving our keynote on 9 July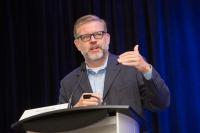 "Who Else [Should] Care: How public, academic, and special libraries can better communicate their values, vision, and mission with stakeholders"
Library leaders from all types of settings need a keen understanding of how to position their library for future funding success. The best way to ensure that you have the resources you need to continue to serve your community, campus, or workplace is to understand that most funders are not users, clients, or customers. Funders are often motivated to support library budgets by different needs and prompts than what motivates a user to engage the library. Join John Chrastka, Executive Director of the US-based political action NGP EveryLibrary for a keynote discussion of ways to root your library's budget in a shared-values and mission-aligned framework. We hope for you to come away with actionable insights to help advocate for your library to stabilize or extend your budget.
COSI (EMEA) Conference 2021 - Pre conference training sessions
COSI's pre-conference training sessions are also now available
Looking for in-depth training on Enterprise and BLUEcloud Analytics? Interested in learning tips and tricks from product experts?
Customers of SirsiDynix International (COSI) registrants can now sign up for in-depth training sessions on 7 July, the day before the conference. Product experts will walk you through Enterprise and BLUEcloud Analytics, answer questions, and offer hands-on instruction.
Register
now to get all your Enterprise and BLUEcloud Analytics questions answered!
Call for presentations - COSI (EMEA) needs YOU!
The COSI Committee are looking for speakers/presenters to share their knowledge and experience of working with SirsiDynix products at our annual conference. Are you enthusiastic about sharing knowledge and helping people problem solve challenges in the Library environment? This will be the ideal platform to present a session help others learn from your experiences. A session is normally about 40 minutes, including time for questions, discussion and changing sessions or you may prefer to share a session with another colleague on a topic of joint interest.
Please let the Committee know if you are prepared to contribute so we can plan the programme for 2022.
Mario Ubink, Chair COSI.
---
COSI (EMEA) Committee
The COSI (EMEA) Committee are looking for more support from our user group members.
Please think about whether you could help out on committee in any capacity. The time commitment is very small. If you're interested in finding out how you could help, or volunteering, please
contact us
.